Slaw Omelet
One of the most common comments I see or receive is – "how can I get my child to eat healthier? or eat more vegetables?"
Something along those lines.
I am a firm believer that step 1 is assessing your relationship with food.
What are you eating?
How are you eating?
What are your feeling/comments about food?
Kids mirror their parents.
Step 2 is don't give up.
It takes repeat exposure for them.
May need to be prepared in a different way.
Adding a sauce for something to dip into
Step 3 if your kid isn't hopped up on sugar, I strongly believe kids know what their bodies need and will eat more of that thing and avoid what they do not need.
I would be mindful of when you think your kid falls into step 3.
It is not an excuse to eat all the sugar and junk food.
But a reason for maybe eating more fruit, more milk / dairy products, avoiding fish, etc.
This can be waves of days or we've experienced weeks.
Since day 1, our kids eat what we eat. They do not get separate meals.
But strangely, baby girl has wanted nothing to do with eggs. Zero. Zilch. They get thrown overboard every time without any going down into her stomach.
Now this girl eats EVERYTHING and ANYTHING in MASSIVE amounts. So it has been odd to us that she outright refuses eggs.
Well not recently!
I made this omelet with slaw for Bubba and I and baby girl ate almost HALF of EACH of one! She's been munching on some now every time I make it.
And Bubba loves this dish.
Luckily, it is a fantastic way to get some extra fiber into their bellies! That is not fruit!!!
This dish is inspired by Cook By Color YEARS ago and has been a favorite of mine for some time now. Here's how I make it.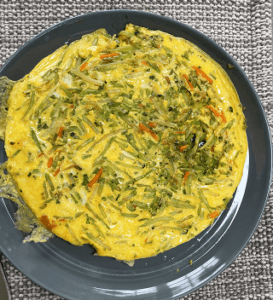 Ingredients:
Ghee or Extra Virgin Olive Oil
Broccoli slaw (Trader Joe's carries one but can be found at most grocery stores in the produce section)
2 eggs (chicken or duck)
Clove of garlic
A knob of ginger
Sea salt
Coconut aminos
Steps:
Heat an 8-in pan over medium heat
Crack 2 eggs into a bowl and scramble. Grate the garlic and ginger into the bowl and mix slightly
Add a spoon of ghee to the pan, cover the bottom of the pan with ghee
Add a handful of broccoli slaw to the pan with a pinch of sea salt. Sauté until softened.
Spread out the slaw to cover the bottom of the pan. Move the slaw to create hole in the center. Add another spoonful of ghee. Let melt. Lightly fill the hole back in with slaw.
Scramble the egg and pour into the pan in the center. May need to maneuver the egg around to fully spread out over the pan.
Turn heat down to low medium heat.
Let it sit, don't touch. You want the sides to turn opaque and the center to not be completely watery that when you flip it a giant mess is made. When ready (maybe 5ish minutes) flip using a spatula.
Turn off the heat and let sit for a few minutes.
Plate the omelet and top off with as much coconut aminos as desired
I realize it is not the most appealing omelet but I swear it is really good!
You could also sauté some onions with the slaw for additional flavor.
I'll serve this with some sort of meat (sausage or bacon) and usually a clementine.
Enjoy!