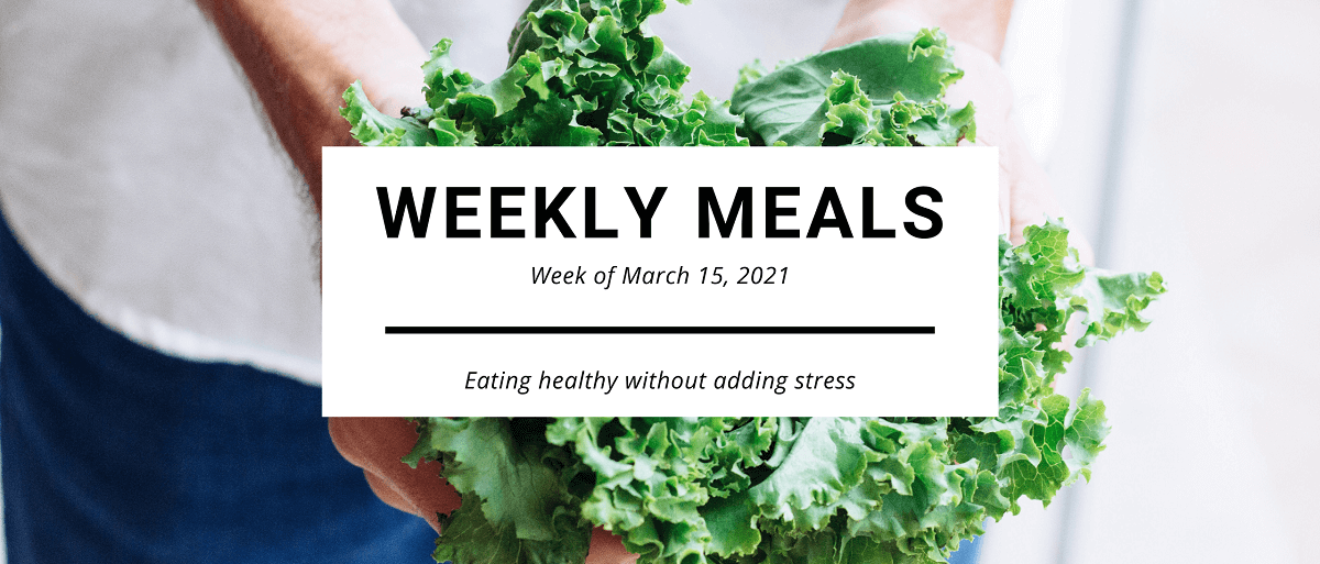 Meals for the Week of March 15, 2021
I prioritized breakfast and having a easy to go snack for Bubba for daycare but other then that everything again was unplanned. I did a giant grocery haul at Trader Joe's early Sunday morning that was packed with vegetables and fruit to get us through the week. In fact, I may have over bought because some of what I bought is overflowing into next week. Just goes to show you, it is best to meal plan so you don't over buy and waste food.
Note on leftovers- most will tell you leftovers in the fridge are good for 4 days. It is a great rule of thumb! In our household, we inspect and smell the food, if all looks good we still eat it – but it is always reheated. You do what you are comfortable with!
Week of meals for March 15, 2021
Our family: 2 adults, 1 toddler
Scope: Breakfast, lunch, and dinner (what is shown for breakfast and lunch is what I eat, I am not tracking my husband's meals – but the goal every week is to use what we have so there is no waste)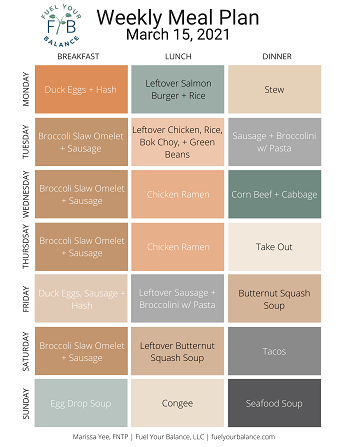 This is going to be a quick run down of what we do. If you have questions or want to know specifics let me know in the comments. If I get enough demand I will start tracking things and sharing them.
Sunday Meal Prep:
Hash – Chopped a 3 pound bag of sweet potatoes and roasted at 425⁰ convection for about 30 minutes. Meanwhile, sautéed a pack of loose Country Time Breakfast Sausage in a skillet on the stove. Just before it was done, I added a 10oz bag of shaved Brussels sprouts, mixed it all together well and added it to the oven for 10 minutes to finish. I tossed everything together, let cool, and stored to be eaten with breakfast all week. Note: next time I will definitely use 2 bags of shaved Brussels sprouts with that amount of sweet potato.
Fat Balls – this was the easy and quick snack to give Bubba at daycare. In the food processor mixed:
1 cup of oats
4 dates, pitted
1/2 cup of almond butter
2 tablespoons of cacao nibs
2/3 cup of pumpkin seeds
1 teaspoon of cinnamon
1 tablespoon of chia seeds
1/2 cup of collagen peptides
1/2 cup of coconut oil, melted
Used a small scooper to scoop out and form into balls. Spaced out on a plate and froze for a couple of hours before moving to a storage container to keep in the fridge.
Monday:
Breakfast – In a skillet on the stove made 2 duck eggs sunny side up and reheated some hash. While I make sunny side up eggs, I do cover the skillet so that they are not truly sunny side up, uncooked white parts gross me out and I won't eat them. Also, breakfasts are completely shared with the little human.
Lunch – Warmed up leftover salmon burger, brown rice, and slaw. Check out last week's post for details.
Dinner – Stew! This was due to the fact I took out meat early afternoon and had limited time to defrost. I chopped a sirloin roast into bite size pieces and added to the Instant Pot. Added a palmful of Nom Nom Paleo's Magic Mushroom Powder. Chopped red onion, carrots, and an eggplant. Added cumin, smoked paprika, chili powder, a can of diced tomatoes, and a cup of broth.
Tuesday:
Breakfast – Broccoli slaw omelet! Heat a skillet on medium heat with a tablespoon of duck fat. Add a hefty handful of broccoli slaw (I buy a bag of organic broccoli slaw at Trader Joe's for $1.99!). Let that cook / reduce for a few minutes. Meanwhile, scramble 2 duck eggs, grate a garlic clove and a small knob of ginger, and add a tablespoon of coconut aminos to the eggs. Clear a little hole in the slaw and add another tablespoon of duck fat. Let melt and mix slightly with slaw. Pour egg mixture into skillet and tilt as needed to spread it out as evenly as possible. After a few minutes, the middle won't be as watery/jiggly, flip. Cook for an additional 2 minutes and move to a plate. Also heated up 3 Applegate Pork Sausages. Served with beet kraut, broccoli sprouts, and a blood orange.
Lunch – Warmed up leftover chicken from last week along with brown rice, bok choy, and green beans. Check out last week's post for details.
Dinner – Roasted Italian sausage and broccolini in the oven at 400⁰ for 35 and 15 minutes, respectively. Meanwhile, cooked Jovial brown rice fusilli pasta. Served with chopped parsley, extra virgin olive oil, minced garlic, and nutritional yeast.
Wednesday:
Breakfast – Broccoli slaw omelet and 3 Applegate Pork Sausages. If you can't tell by now I was not a fan of the hash I had made.
Lunch – I stopped at Whole Foods and got a small rotisserie chicken and *******
Dinner – Happy St. Patrick's Day! Zach requested corn beef and cabbage so that is what he got. He also for some reason wanted more so we served this with white rice.
Bought a corn beef from the store. Added it to the slow cooker around noon with half a bottle of McCormick's Pickling Spice (it is what I had left) and covered it with filtered water. Added chopped carrots, yukon potatoes (we had these on hand and needed to be used), and green cabbage. Set on high for 4 hours. It was perfect.
Thursday:
Breakfast – Broccoli slaw omelet and 3 Applegate Pork Sausages.
Lunch – Repeat of yesterday's lunch. It is the rest of the noodles and broth.
Dinner – Today was day 2 of Bubba be unexpectedly home so I was mentally and physically spent. We got take out – sushi, dumplings, and soup.
Friday:
Breakfast – In a skillet on the stove made 2 duck eggs sunny side up, 1 Applegate Pork Sausage and reheated some hash.
Lunch – Warmed up leftover pasta, sausage, and broccolini.
Dinner – Butternut squash soup:
Roughly chopped a butternut squash and 3 small parsnips. Roasted at 425⁰ convection for about 30 minutes
In a pot on the stove, sauteed a couple pieces of bacon. When done, removed bacon to a plate and poured most of the fat into a separate container. Left about a tablespoon of fat in the pot.
Meanwhile, sliced a shallot, chopped 3 celery stalks, grated a small knob of ginger and 3 garlic cloves. After the bacon was done, added this to the pot to sauté
Added in the roasted vegetables, 2.5 cups of broth, and a lot of thyme
Pureed and simmered on the stove until ready to eat.
While this was all cooking, I picked apart the rest of rotisserie chicken I bough on Wednesday. Put a handful of chicken in the bottom of everyone's bowl and poured soup on top. Mixed it around and let it sit / cool for a few minutes before we all ate. This way the chicken wasn't fridge cold when we went to eat it.
To prep for tomorrow – I made Radical Roots (Laura Bruner's) sourdough tortillas so they would have about 20 hours to rise.
Saturday:
Breakfast – Broccoli slaw omelet and 2 Applegate Pork Sausages.
Lunch – Warmed up leftover butternut squash soup and chicken.
Dinner – Taco night! Bunch of random stuff but here's what we did:
Sautéed a thinly sliced red onion on the stove over medium low heat with a little bit of extra virgin olive oil
Meanwhile, chopped up grape tomatoes and mangos and sliced a mini cucumber.
Sliced up a orange bell pepper and added it to the skillet with the onions to sauté
In a separate skillet, sautéed a pound of ground beef over medium heat. Added cumin, ground garlic and onion, and chili powder.
Made guacamole – 2 avocados mixed with sea salt, ground onion, and smoked paprika.
Made the tortillas
Served with arugula and nutritional yeast
Sunday:
Breakfast – Warmed up a small pot of homemade broth, scrambled two duck eggs, grated ginger and garlic, and slowly poured the egg mixture into the boiling broth while swirling it for some egg drop soup. Also, made 2 Applegate Pork Sausages.
Lunch – Made some good old fashion congee. Bubba is a little congested and it is only a matter of time that I get it. And all I ever want when I am sick is congee. Here's what I did, thanks to amazing directions my dad gave me:
Roasted a chopped up chicken in the oven at 375⁰ for about 30 minutes. It wasn't fully cooked but I really roasted it for added flavor.
In a large pot, cover the bottom with a long grain white rice. About 1/2 an inch. Fill the pot about 3/4 of the way with filtered water. Bring to a boil and then simmer.
Stir frequently.
When the chicken was done in the oven, I moved it over to the pot. After about 45 minutes I removed the chicken, removed the meat from the bones (it basically fell right off) and added the bones back in. The back bone and neck were added to the pot as well.
After about 3 hours it was the consistency I desired. Most of the liquid had evaporated or been absorbed. It was this mushy, gelatinous texture. Removed the bones
Served with some shredded chicken, scallions, and tamari
Dinner – Made No Crumbs Left's Luscious Seafood Soup. It is the best, this should be added to your rotation. It is easy and full of so much flavor. We used a fillet of flounder, 1 pound of scallops and a bag of mussels.